Free BNC (bouncer)
FreeBNC.eu merupakan salah satu penyedia BNC yang gratis. Seperti artikel sebelumnya BNC atau bouncer digunakan dalam chatting di IRC (Internet Relay Chat), untuk menyembunyikan IP asli. Dengan menggunakan BNC, ataupun psyBNC digunakan untuk melindungi dari adanya flood ke IP asli yang kita pakai.
Ok, langsung saja kita register di freebnc.eu. Klik menu Sign Up dan isikan data-data Anda.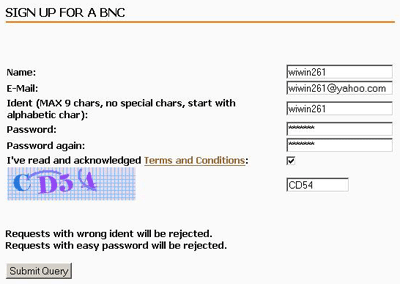 Jika sudah kemudian klik submit.

You have successfully signed up for freeBNC service. We'll activate your account in about 24 hours. ACTIVATION IS NOT AUTOMATIC!!
Tunggu sampai ada konfirmasi ke email kita.
Jika di-approve maka akan mendapatkan email kurang lebih sebagai berikut.
Hi wiwin261,

You signed up for the freeBNC.eu free service. Here are the details of your accunt:

username/ident: wiwin261
password: cakep
host:port freebnc.eu:31004

Easy setup in mirc:

/identd on wiwin261
/emailaddr wiwin261@
/server -a freebnc.eu -p 31004 -g freeBNC -w cakep -d freeBNC
/server freeBNC

By default it is NOT connected to any IRC network.

For help, questions or feedback please visit http://freebnc.eu

Regards,
freeBNC.eu team
Sekarang tinggal konekin pakai irc client (mirc atau xchat). Langkahnya seperti yang ada di email. Untuk perintah dasarnya sebagai berikut:
Help:

/msg *status help

Add server:

/msg *status AddServer host port
exp: /msg *status Addserver irc.dal.net 6667

Delete server:

/msg *status RemServer host
exp: /msg *status RemServer irc.dal.net

Jump to the next server:

/msg *status jump

Set awaynick:

/msg *awaynick set MyAwayNick
exp: /msg *awaynick set wiwin`afk

Selanjutnya tinggal pakai saja. Gampang kan? Free lagi :D. Ayo buruan daftar, mumpung masih bisa. :p
Hasil /whois punya saya:

wiwin261 is wiwin261@freebnc.eu * freeBNC.eu (4)
wiwin261 on @#bagelen #purwokerto @#yogyafree #SamarindaHack #yogyakarta +#passcrack #becak +#1m.n0b0dy.d0nt.fuck1ng.wh01s.me 
zz_wiwin261 using matrix.de.eu.dal.net www.arcor.de - Arcor Online Services
zz_wiwin261 is away: Auto away at Wed Mar 18 02:46:32 2009
zz_wiwin261 End of /WHOIS list.

Referensi :
1. http://freebnc.eu/